Queen's Day is arguably the best one day party on the third sphere. Most of the action takes place in the crazy streets and boulevards. If you're lucky and know someone with a boat here is the other option.
---
The Queen retired. Long live the King!
---
Is there any nation in the whole universe whose affairs come to a complete screeching halt for a whole day just so the citizens can go to the de facto capital city and drink beer all day long? Yup, there is such a country. The country is officially known as Nederland, more formally as Koninkrijk der Nederlanden. The English version is The Netherlands, but most of us just call it Holland. The de facto capital city is Amsterdam.
The big day has been known as Koninginnedag for decades. It is known outside Holland as Queen's Day because most people outside Holland can't pronounce Koninginnedag, or they would rather not pronounce it to avoid getting a sore throat.
I have been a loyal participant in a number of Queen's Day celebrations over the years. These have been great times. Unfortunately I will never go to another Queen's Day. Nor will anybody else. The Queen retired on Queen's Day 2013, and so also the annual April 30 celebration.
However, those clever Dutchies have come up with a work-around. Starting in 2014 they will be celebrating King's Day. I bet you saw that coming. The new King is a young buck named Willem-Alexander. He was born on 27-April-1967. Therefore, by royal proclamation the new spring holiday in Holland will henceforth be called Koningsdag, "King's Day," and will be joyfully celebrated every April 27, rain or shine, except never on Sunday. Because April 27, 2014 is a Sunday the celebration has been moved up a day to April 26. Actually, the pre-party action will get underway Friday night, April 25.
This web page is a photolog of my experiences in 2008.
---
Actually there was no Queen's Day. In Queen's Dutch the celebration was known as Koninginnedag. We began our sortie from B&B Paula on the west side of Haarlem, on bicycles. Here we pass the first of many Vrijmarkt garage and trinket sales. The round sign means no parking and the arrow advises incoming traffic that it must turn right.
---
Pedaling all the way to Amsterdam is a little too much, especially the return trip, so we took the train. At the Haarlem Station Paula considers it best to park in the inside garage. We paid €1 for the day. Free parking is any open space outside the station, and there are thousands of bikes everywhere. No matter where you park it, lock it or kiss it good bye.
---
The ticket machines at Haarlem station are the convenient way to buy a train ticket, if you have a chip card. European bank cards have a chip and PIN to avoid the credit card companies. With an American credit card you are penniless at these machines. A few of the ticket machines accept coins. Or you can go to the window and pay in cash. Lines at the ticket windows are longer and the ticket costs you half a euro more. Luggage lockers at the Haarlem station also accept only chip and PIN cards. I was able to use a locker by paying a passerby who used his Dutch bank card to access the locker. Dutchies love Americans, but not our politics.
---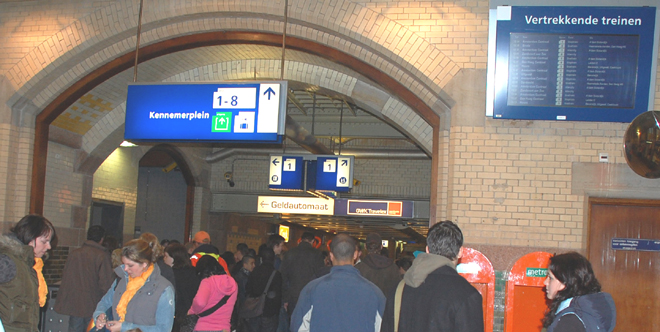 Everybody wanted to go to Amsterdam on Koninginnedag. The station was busier than I've ever seen it. So were the trains. We didn't have to wait long before being admitted onto the platform and pushing our way onto a train. It was standing room only but the trip is only 15 minutes.
---
Getting off in Amsterdam the mob got moving toward the exits. That green sign with a white box and arrow indicates a stairway to the ground floor.
---
After exiting the station we followed the mob, most of which seemed to know where to go.
---
The front steps of the Albert Heijn grocery store behind the Royal Palace at the Dam was a resting place and beverage stop for some. The AH store was open for business.
---
Paula pulled a beer out of her bag to get started in front of the grocery store.
---
Another view of the front steps of the grocery store shows many Amsterdamers in orange, the national color.
---
We were already getting hungry. A good sandwich and a beer hit the spot in this little bakery.
---
Our first objective was to reach the Spui and several of my favorite cafes in Amsterdam. Beer stands were set up out front for the convenience of thirsty celebrants. That is the Cafe Luxembourg on the left and the Hoppe on the corner.
---
Here is the side door of the Hoppe with a traditional Dutch bike parked against the window. Normally this neighborhood is swarming with bicyclers but there wasn't room to move on this day. Through the window you can see a fellow entering the men's room. This bar does not have a women's room. Ladies need to walk behind the tap and through a door to the Amstel bar next door. See the previous photo.
---
This young woman was grilling burgers and having fun.
---
"Coffeeshops" are famous in Amsterdam, except that they don't sell coffee. It's weed.
---
Here's a garage sale Amsterdam style. I didn't see anything that I couldn't live without.
---
Here I found something I couldn't live without, that painting of an undefined bug. It cost me €1. Who knows, this girl might grow up to be a famous artist. She is certainly a very good merchandiser. Look at that smile.
---
I bought a gift for daughter Stephanie here, a seashell necklace.
---
This is a typical mobbed street on Koninginnedag. The round sign means "do not enter" and the small white one says "except for bicycles and motorized bicycles." Bicycles with engines up to 50 cc were called bromfiets in Holland but Dutchies normally call them brommers these days. Nobody is riding a bike or a brommer here today.
---
Bring your junque and a blanket to set up shop. Here is another Amsterdam garage sale. Actually, I doubt if there are any private garages in the center of Amsterdam.
---
There is plenty of action in the canals with music and cheering participants and spectators. Amsterdamers have a special talent for standing on the edge of boats without falling into the wet stuff. It's a free show.
---
I wanted to buy an orange bobbie's hat but they wouldn't fit me. Drats.
---
Here is one of the many groups doing it's thing somewhere near the Leidseplein.
---
The whole crowd at the Leidseplein wouldn't fit on screen. The Leidseplein is one of the more famous outdoor cafe squares in Amsterdam. Not many were sitting on this day.
---
It was the right day for an outdoor party so this happy group hauled their furniture out on the street to be comfortable. "Emergency exit" -- bah.
---
There is no end of restaurants with outdoor grills.
---
Another canal and another parade of overloaded boats.
---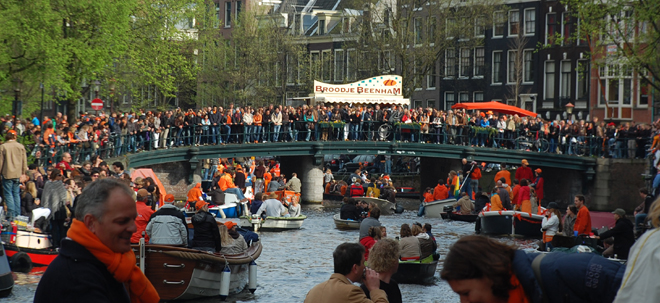 SRO on the bridge.
---
A comfortable dude with room to stretch on his boat.
---
Just another garage sale. It looks like the cowgirl is making a purchase.
---
Drinking a lot of beer requires a place to let it out. The city sets up these urinals for the gents all over town. It's best not to step on a wet spot. If you are bashful and don't want to piss in public use a cafe, BUT don't be surprised to have a parade of girls passing behind you as they make for the stalls. Almost anything goes in Amsterdam, especially after half of the citizens drank their fill. The trash scene looks bad but it is not nearly as bad as in prior years. As an ecological move, and certainly one to save clean-up costs, there is a deposit on plastic cups at every bar.
---
The raft looks like it has nearly exceeded its capacity limit. Those glass houses comprise the famous flower market on the Singel, one of the half dozen or so horseshoe shaped canals around the center of Amsterdam.
---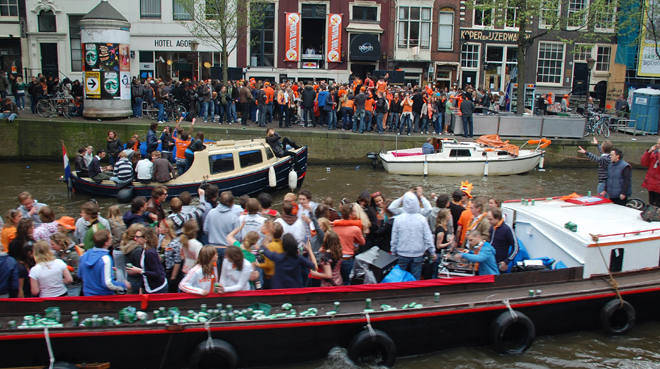 Let's see who can make the most noise, the band at canal side or the boat with its disk jockey. Notice the load of empty beer cans on the boat.
---
We take a moment of repose back at the Hoppe. This is certainly one of the best meeting places in Amsterdam. I've been a patron for decades. It is very crowded after the offices and shops close.
---
And then it is back outside for "The Main Event Spui Orange." Up on that bridge is a pop star, I guess, with a couple of his group dancing. If you are having a bad time you are on the wrong orb.
---
The boys saw my camera and gave it their best.
---
The party is over as we walk back to Amsterdam Centraal Station. It has been a great day.
---
But wait, it's not over yet! Back in Haarlem we stop at the Proeflokaal on Langeveerstraat where the Haarlemers are still in party mode at full throttle. Go Haarlem, my home town in Europe.
---
Additional Information:
All About King's Day Web site.
Keukenhof, Lisse, Holland.
After a rambunctious Queen's Day enjoy the serene beauty of Keukenhof Garden. Keukenhof has 7 million tulips and other bulb flowers on 80 acres of perfectly manicured land. It is a great bike ride from either Haarlem or Leiden train stations, or a 40 minute walk from Hillegom station. Hillegom "station" is a platform overlooking the nearby tulip fields. Just getting to Keukenhof will be a beautiful experience.
B+B Paula, Haarlem, Holland.
Probably the best sleeping quarters you can find in Haarlem or Amsterdam, B+B Paula is ideally located on the west side of Haarlem. The Bed and Breakfast includes two rooms, a fully equipped kitchen, a shower room, separate commode, hair blower, free WiFi, free street parking, bicycles, plus made-to-order breakfast delivered to your room. It's like an apartment with room service. And you'll never find a more pleasant area in which to ride a bike, known as a fiets in Holland.
Netherlands: Prime Travel Data

Haarlem Things to do and see.

Frans Hals Museum, Haarlem

The Netherlands Embassy in Washington, D.C. Official Web Site.
---
Copyright:
Internet edition
© 2014-2001 James J. Broad
All rights reserved. Tous droits réservés.
This is copyrighted material. Do not reproduce, copy, plagiarize, store, modify, extract,
transmit, or purloin any part of this publication in any nation in any form or by any means
or for any purpose whatsoever without permission in writing.
Travelers:
You may print one copy of this chapter for your personal use.
Permissions:
If you want to copy any of this material to any blog, forum, web site, book, article, speech, term paper, or any other media please ask first. Copyright violators and plagiarists are tracked down. Note that plagiarism includes paraphrasing text and even copying ideas, unless you give credit to the originator, and with his/her permission. Everything on this page is original. Please respect my property.

For permissions contact: [email protected]
Webmasters:
You may link the URL http://www.enjoy-europe.com/travelog/QueensDay2008.htm freely. Please do. When you link please send the URL for your linking page and a crosslink will be installed in one of the categories of the TRAVELERS YELLOW PAGES to your site if it has significant content for travelers in Europe.
Utilities:
Home.
Type Ctrl d to bookmark this page.
Bon voyage on site, and all over Europe!
---
---