Our objective on this beautiful May afternoon was the flower garden at Keukenhof. This is located on the NW edge of the village of Lisse, half way between Haarlem and Leiden in The Netherlands, also known as Holland.
---
We set out on our journey from B&B Paula on the west side of Haarlem. Going south we passed through the affluent suburb of Aerdenhout where you see many beautiful homes like this thatched roof mansion.
---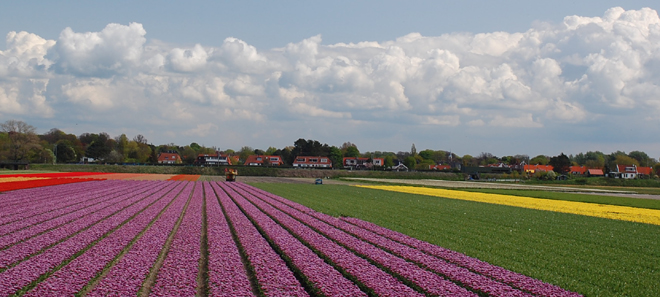 Ah ha. Only 20 minutes south of B&B Paula we come across our first tulip field.
---
Well, you must know that this is Holland because there goes one of those double decker Dutch commuter trains flying south from Haarlem to Leiden. They'll get there before we do but we are smelling the flowers. Hyacinths drive me crazy. No sails on the windmill today.
---
You can stop here and buy some flowers. Two bos (bundles) of tulips cost only €2.50 (~$3.90) and 20 roses are a steal at € 3.50 (~$5.40). The makelaar is a real estate agent offering the house next door te koop (for sale) for probably a princely sum.
---
Another field of stunning wild red.
---
Here is photographic evidence that people actually do tip toe through the tulips.
---
Here is another part of the ground level rainbow south of Haarlem.
---
A village extends its welcome, also in church on Sunday at 10:00. The auto road narrows four times, but not the red bicycle road. Bicycles, called fietsen in Holland, are the preferred way to get around in this small country. Everybody has a few bikes.
---
---
We were following the route of bus number 90 which goes all the way to The Hague. Here is a typical bus stop with schedule and route. Public transport in Holland is very good, unless there is a driver strike.
---
---
---
---
---
If you are driving follow the blue signs. The number next to the name of each town is the distance in kilometers. Each kilometer is 6/10 of a mile. N 206 is a route number. The N208 is a more direct route from Haarlem but the N206 has less traffic and more tulip fields.
---
The speed limit is 30 kph (about 18 mph) in the tiny village of De Zilk, "Heart of the Bulb District." You are welcome in four languages but you are not allowed to park your large trucks, busses, or trailers in town overnight, except in marked zones.
---
Ga terug means "go back." Seeing as how there is a 5 ton truck coming your way and filling the road I would go back very quickly. The round red one with the white belt means "do not enter" which, as here, is posted at the outlet end of highway off ramps and one way streets.
---
---
If you are riding a bike follow the red bordered signs. Hey, we are getting close! Keukenhof is only three kilometers away. That's less than two miles and the sky is still blue. This is our lucky day.
---
---
---
---
Another 50 meters (about 55 yards) down the road you can't ride your bike or brommer (bike-like machine with a maximum 50 cc noisy gasoline engine). This is typical of no entry signs where the silhouette may be of a horse, hay wagon, or anything else that moves on legs or wheels.
---
What a welcome sight this is, a cafe. We stopped for a traditional Dutch beverage, that pale orange liquid with a white foamy head. An Italian family had rented those four green bikes in Leiden for their journey to Keukenhof.
---
---
---
What had been a beautiful Dutch bike is now poled on a bus stop sign. I would like to know the story behind this.
---
Finally we arrive at Keukenhof after two hours of strenuous lolling about on the bicycles, having a beverage at the cafe, and taking photos. We could have easily made it in under an hour except for the lolling. As you can see, Keukenhof was open from March 20 to May 18 in 2008. The Dutch language does not capitalize month names. The Bloemencorso is an annual flower float parade, sort of a small Rose Parade without the glitz. More info and ticket sales can be found at the web site.
---
Inside Keukenhof we were greeted by the first patch of beautiful flowers. There are acres and acres of this.
---
Just my own personal opinion but I would say that these bloemen look rather confused. The official name is Emperor's Crown but I suggest calling them "Nutty Professor."
---
Each bed has a name plaque so you can order bulbs. These are not fully in bloom and are labeled as "late" to indicate that they are late bloomers, like me.
---
Signs like these are posted around Keukenhof. Entrances/exits are indicated by the P for parking signs. Hoofdingang is the main entrance. Rest your bones and nourish your body at the cafe pavilions. For example, at Willem Alexander Pavilion you can get information brochures, enjoy one of three sorts of toilets, get a band aid, buy souvenirs, have a snack and beverage, and change your dollars into way overpriced euros. Willem Alexander is the newly crowned King of The Netherlands. His Mother Beatrix retired as queen. His Grandmother was Juliana and his great-Grandmother was Wilhemenia. Wilhemenia's birthday had been celebrated vigorously on April 30 every year. As of 2013 Willem Alexander became king and Queen's Day was abolished. See my page at Queen's Day for pictures of the Amsterdam Koninginnedag events in 2008.
---
A couple of masonry bulbs helps to decorate the grounds.
---
When you have had enough tulips challenge yourself on these pads. Don't drown.
---
Back to the displays. There are dozens of patches of bloemen in Keukenhof.
---
Here is a patch of "Maytime" tulips.
---
Before you buy your bulbs make sure that the package has the certificate of good health. If the bulbs do not have the holograph certificate the US Customs Service will burn them when you bring them home.
---
We stoped for a beverage and utterly lousy sullen insulting "service" at this cafe. I've never experienced such a bad waitress anywhere in my life. On the left is an organ grinder. This guy didn't have a monkey but made a lot of annoying noise with his machine and his shaking coin cup.
---
Tail of the dog, but this one didn't bite me.
---
It looks like ladies nude golfing is allowed. Fore!!
---
No Dutch attraction would be complete without a kid zone. Keukenhof is no exception. I am not too old to try that myself.
---
---
Tulips go with windmills.
---
Just another pretty scene.
---
I am jaded.
---
---
It isn't over until the fat lady swings the hula hoop.
---
The day is getting long as we ride back to Haarlem past more tulip fields and this quiet canal. The sun stays up until late in the evening in May. Holland is one beautiful country.
---
Additional Information:
Keukenhof Official Web Site.
Queen's Day Amsterdam.
There is a crazy side to The Netherlands, also. It has been called Queen's Day for many years. Starting in 2014 it will be King's Day. It is celebrated throughout the country but the real action is in Amsterdam, as if that great city has any need for further excitement. You've probably never seen anything like this party. This link takes you to my Photolog of one of my visits to this annual springtime event.
B+B Paula, Haarlem, Holland.
Probably the best sleeping quarters you can find in Haarlem or Amsterdam, B+B Paula is ideally located on the west side of Haarlem. The Bed and Breakfast includes two rooms, a fully equipped kitchen, a shower room, separate commode, hair blower, free WiFi, free street parking, bicycles, plus made-to-order breakfast delivered to your room. It's like an apartment with room service. And you'll never find a more pleasant area in which to ride a bike, known as a fiets in Holland.
Netherlands: Prime Travel Data

Haarlem Things to do and see.

Frans Hals Museum, Haarlem

The Netherlands Embassy in Washington, D.C. Official Web Site.
---
Copyright:
Internet edition
© 2014-2001 James J. Broad
All rights reserved. Tous droits réservés.
This is copyrighted material. Do not reproduce, copy, plagiarize, store, modify, extract,
transmit, or purloin any part of this publication in any nation in any form or by any means
or for any purpose whatsoever without permission in writing.
Travelers:
You may print one copy of this chapter for your personal use.
Permissions:
If you want to copy any of this material to any blog, forum, web site, book, article, speech, term paper, or any other media please ask first. Copyright violators and plagiarists are tracked down. Note that plagiarism includes paraphrasing text and even copying ideas, unless you give credit to the originator, and with his/her permission. Everything on this page is original. Please respect my property.

For permissions contact: [email protected]
Webmasters:
You may link the URL http://www.enjoy-europe.com/travelog/Keukenhof2008.htm freely. Please do. When you link please send the URL for your linking page and a crosslink will be installed in one of the categories of the TRAVELERS YELLOW PAGES to your site if it has significant content for travelers in Europe.
Utilities:
Home.
Type Ctrl d to bookmark this page.
Bon voyage on site, and all over Europe!
---
---